This page contains downloadable documents, please scroll down to reach them
What is safeguarding?
Safeguarding is the action that is taken to promote the welfare of children and to protect them from harm.
Safeguarding means:
To protect children from being maltreated
To prevent a child facing impairment of their development or physical or mental health
To make sure that children are given care in their childhood that's safe and effective
To take action to ensure children get the best possible outcomes and life chances.

Safeguarding children and child protection guidance and legislation applies to all children up to the age of 18.
SAFEGUARDING STATEMENT OF INTENT
At Alfred Lord Tennyson School, we are committed to providing a caring, friendly and safe environment for all of our pupils, so they can learn in a relaxed and secure atmosphere. We believe every pupil should be able to participate in all school activities in an enjoyable and safe environment and be protected from harm. This is the responsibility of every adult employed by, or invited to deliver services at, Alfred Lord Tennyson School. We recognise our responsibility to safeguard and promote the welfare of all our pupils by protecting them from physical, sexual or emotional abuse, neglect and bullying.
Our Child Protection and Safeguarding Policies can be found below.
If you have any concerns about a child in our school, you should share this with our Designated Safeguarding Lead – Mrs K O'Connor (Head Teacher) - or one of the Deputy Safeguarding Leads, Mrs J Appleby (Inclusion Manager) and Mrs S Smith (Assistant Head).
What is Child Protection?
Child Protection is part of safeguarding and promoting welfare. It refers to the activity that is undertaken to protect specific children who are suffering, or are likely to suffer significant harm.
Our Designated Safeguarding Leads (DSLs)
DSLs ensure all children are safe within our school. If you have any safeguarding concerns, please contact one of our DSLs.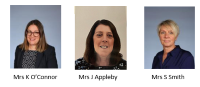 Multi-Agency Safeguarding Hub (M.A.S.H)
The Multi-Agency Safeguarding Hub (M.A.S.H) deals with referrals from professionals and members of the public who may have concerns about a child's welfare following contact with the helpline that is now also based in the Multi-Agency Safeguarding Hub. It makes the process of dealing with referrals quicker and more effective by improving the way the Council's Children's Social Care, Northamptonshire Fire and Rescue Service (NFRS), Youth Offending Service (YOS) and education work alongside other partner agency colleagues, including Northamptonshire police, Northamptonshire health partners, National Probation Service, and the East Midlands Ambulance Service (EMAS), to share information.
Contact M.A.S.H
By telephone: contact the Multi-Agency Safeguarding Hub: 0300 126 7000 (option 1)
By e-mail to: This email address is being protected from spambots. You need JavaScript enabled to view it.
At the foot of the page is a parent/carer leaflet regarding the M.A.S.H referral process.
---
Safeguarding Curriculum
At Alfred Lord Tennyson we prioritise the safeguarding of the children and plan many opportunities within the curriculum to raise awareness. Please see the document below which highlights some of the approaches we take and themes covered.
Many elements of safeguarding are also taught in our Computing lessons as part of online safety and our PSHE lessons which follow the JIGSAW Scheme of work. The JIGSAW Programme takes children's and young people's safety very seriously and aims to equip them to lead safe, happy and healthy lives, to embrace the opportunities open to them, to aim high, to be empowered to keep themselves safe, to know their rights and responsibilities and to know where and how to ask for help when needed. The JIGSAW Programme builds the foundations of children's positive relationships with themselves, self-esteem, self-respect, and assertiveness skills; and approaches sensitive subjects in an age-and stage-appropriate way. The Programme focuses on healthy relationships, what to do if you are worried about something, your rights as a child, your personal space, body privacy and who can help us. Through this we are building their ability and confidence to speak out when they feel hurt or unsafe.
Through Relationships Education (RSE), we teach the knowledge needed to report abuse by focusing upon boundaries and privacy, ensuring children understand that they have rights over their own bodies.
Prevent Strategy
As part of Alfred Lord Tennyson's ongoing safeguarding and child protection duties, we are fully behind the Government's Prevent Strategy.
From 1 July 2015 all schools are subject to a duty under section 26 of the Counter Terrorism and Security Act 2015, in the exercise of their functions, to have "due regard to the need to prevent people from being drawn into terrorism". This duty is known as the 'Prevent Duty for Schools'.
At Alfred Lord Tennyson School we build pupils' resilience to radicalisation by promoting fundamental British Values and enabling our pupils to challenge extremist views. You can read about what we do to promote British Values here.
The statutory guidance refers to the importance of Prevent awareness training to equip staff to identify children at risk of being drawn into terrorism and to challenge extremist ideas. All staff have also completed online training on the Prevent Strategy.
NSPCC - The Pants Rule
Please click on the link below for more information about keeping children aware and safe.
Safeguarding Documents